Second Degree Reiki
"Reiki transforms the awareness of the Practitioner
Revealing within the brow chakra the Lotus of Spiritual Enlightenment.
At its centre is
The Healing Light of Reiki."
econd Degree Reiki creates a quantum leap in intuitive awareness. Following initiation into Second Degree Reiki, the energy from the First Degree initiation is squared and the Student may begin to experience a feeling of oneness with the Reiki Energy as they become aware of the manifestation of love in their life due to the flow of Reiki through them. Life begins to flow more easily, as the Student tunes into the clear vibration of the spirit self rather then the confusion of the ego self. Fear no longer needs to be created, and anger loses its power and potential.

Joy and happiness become the focus, and excessive material considerations seem increasingly unnecessary.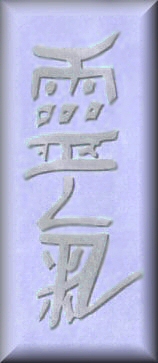 he Second Degree Reiki course is the Practitioners course, during which time the Student is Initiated into the Second Degree of Reiki and introduced to three of the four sacred symbols which are the hallmark of Reiki and the Usui Shiki Ryoho System of Natural Healing. The symbols that I share with my Students are the same ones that were shared with me by my own Reiki Master. In this way, the symbols are a shared experience passed as a torch from one generation of Masters to the next.

During the Second Degree Reiki course students are given ample time to become aware of the different energies associated with each of the symbols and to practice their use, time is given for meditation, and the Student is also introduced to colour, crystals and other techniques to enhance their healing practice. Students are taught the ethics of best practice and practical considerations are discussed for those who wish to embark on a more professional career as a Reiki Healing Practitioner.
he Second Degree course is held over a weekend, each day starts at 10.30am and finishes at 4.30pm with an hour for lunch.

Students are given a comprehensive manual to accompany the course, and upon successful completion of the course a certificate is awarded and on going support and advice are offered to the Student for as long as they wish to avail themselves of it.

Time is also given in class to write, discuss and where appropriate, share experiences gained during meditation, healing and initiation.